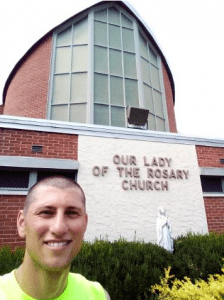 Greetings!  My name is Chris Massaro and I'm a seminarian for the Archdiocese of Philadelphia, entering Theology II.  I am on a training ride for Biking For Vocations around Coatesville.
I thought I should stop for a moment of Eucharistic Adoration at Our Lady of the Rosary to pray through the intercession of Saint Catherine of Siena that our training and work with Biking for Vocations would give glory to God and build up the Kingdom of Heaven.
Saint Catherine of Siena, pray for us! Our Lady of the Rosary, pray for us!