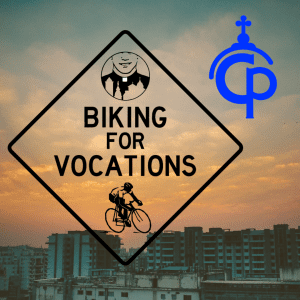 As we draw closer to the start of Biking for Vocations, the event is drawing some local media attention.
CatholicPhilly.com recently published an article detailing the unique pilgrimage, writing:
In a new initiative called "Biking for Vocations," over five days, Aug. 8-12, seminarians will be crisscrossing the Philadelphia suburbs by bicycle to spread the word that Jesus is calling everyone to a vocation, and perhaps young people to life as a priest or consecrated religious.  After heading out from the seminary in Wynnewood, there will be stops at 10 parishes in Chester, Montgomery and Bucks counties, with some overnights along the way.

Visits to the parishes will include holy hours, prayer services, Mass and vocation/witness stories given by seminarians including Eric Tamney, Chris Massaro, and Tucker Brown, among others, and the three will also update their progress on Facebook Live.  Joining the eight seminarians on the ride – seven men from the Philadelphia Archdiocese and one from the Allentown Diocese — will be Father Chris Cooke, the director of the seminary's Spirituality Year program located in Conshohocken.

And they won't be alone on the roads. More than a dozen other seminarians and volunteers will be transporting the riders' gear and supporting them in cars along the way.
In the meantime, participating seminarians are continuing to train for their 150-mile journey, while the host parishes are making preparations to welcome them.  Check back often on heedthecall.org for updates as this special event approaches!