High School Men!
Join the Vocation Office for an exciting Summer!  There are multiple opportunities for you to delve deeper into your faith while forming friendships and having fun!
This is the 10th Anniversary of Quo Vadis! Once again it will be held at Black Rock Retreat Center in Quarryville, PA. The 4-day, 3-night camp includes great talks, daily Mass and prayer experiences, including a Eucharistic Procession, and team sports and activities. The registration fee is on a sliding scale of $25-$300 (pay what you are able) and the registration deadline is June 3, 2019. For more information, click HERE.
PCSP is a college-accredited, residential program where high school juniors and seniors live on the grounds of St. Charles Borromeo Seminary and attend daily discussion-based seminars led by seminary and university professors.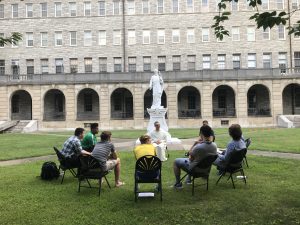 Students have the unique opportunity to delve into the great texts of the western and Catholic traditions in order to seek a deeper, richer understanding of their faith. By inviting them to spend ten days at the seminary, dining and studying together, praying and playing sports together, asking deep and difficult questions together—these young men are invited into a centuries-old conversation about the true, the good, and the beautiful.
The registration fee for this camp is $150.00. Upon acceptance into the program, additional information on tuition costs will be communicated and tuition assistance is available. For more information, click HERE.
Now in it's second year, Going Deeper is a 4-day service-oriented camp organized by the Vocation Office for the Diocesan Priesthood. This camp is held at the Spiritual Year House in Conshohocken, and is designed for high school men in Grades 11 to 12 (incoming juniors to graduated seniors) or those with at least two years' Quo Vadis experience.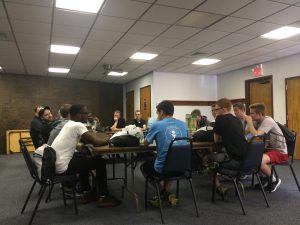 These men are invited to go deeper into their faith by participating in service activities, daily Mass, Liturgy of the Hours, Eucharistic Adoration, prayer, great talks and small group discussions. The registration deadline is July 1, 2019 and the cost of registration is $100.00. For more information, click HERE.